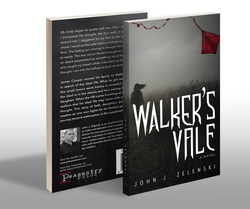 Peasantry Press is excited to announce the re-release of Walker's Vale, a supernatural thriller by author John Zelenski. Originally released by Tate Publishing, Walker's Vale is also currently being developed into a motion picture.
Walker's Vale tells the story of James Cooper, an ordinary man who moves his family to Walker's Vale, Pennsylvania, in search of the ideal life. What he gets is the just opposite. As this small town's eerie history is revealed and repeated, it's clear the devil is in the details -and he's waiting for the Cooper's young daughter. When the FBI come knocking at his door, James quickly realizes that his ideal life may come with a steeper price than he thought. This story of faith, deception, and horror will captivate readers as one man fights for his family's safety and embarks on a journey toward redemption in this suspenseful supernatural thriller.
Look for Walker's Vale later this month on Amazon.com and through other great booksellers everywhere!
To receive release date details and sale information,
sign up for our newsletter here!