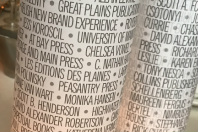 1) Rudiger and the Painted Door won the Best Illustrated Award
in the 2017 Manitoba Book Awards. The award ceremony was an exceptional celebration of a number of very talented Manitoban writers. We were honoured to participate, and thrilled to see
Rudiger and the Painted Door
win. We couldn't be prouder of this book.
Rudiger and the Painted Door, with its vivid illustrations and engaging story about fun, imagination, and family, is a wonderful addition to any collection and perfect for reading aloud to your little one. Check it out
on amazon
or through other great booksellers everywhere.
2)
Peasantry Press has acquired the exciting YA Science Fiction novel, Infusion,
from Charlie Dawg Press. The Release is set for Wednesday, July 12, in ebook, paperback, and hardcover. For more about this book, visit the author at
www.alyssathiessen.com
3)
We're looking forward to announcing a new novel from Canadian writer Melinda Friesen,
author of the popular
One Bright Future
series. Stay tuned for details!
Want to be the first in-the-know?
Sign up for our newsletter
to receive Peasantry Press updates to your inbox.
Happy reading, and may you find joy in each moment of this beautiful summer season.