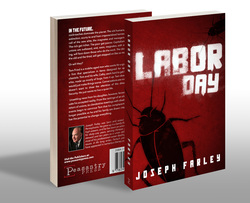 Joseph Farley's new novel, Labor Day, paints a vivid picture of a bleak future where poverty reigns and the working class has no voice. What once was known as Labor Day is a distant memory, and managers and owners rule with impunity. Oh, and did we mention that there are roach-people?
Farley's book is, as he says, an "interplay of humor with the serious, the light and the dark." Both witty and moving, Labor Day is a literary science fiction novel that weaves together an intriguing plot, memorable characters, and important social commentary.
If you're looking for a powerful, interesting, captivating, thought-provoking read, click
here to check out Joseph Farley's Labor Day
. Available now in Paperback, Hardback, and Kindle!