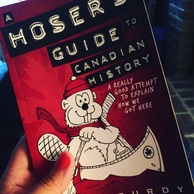 Coming soon from Peasantry Press! Kirt Purdy's
A Hoser's Guide To Canadian History
offers a light, funny look at Canada's history, from its early beginnings to its tumultuous growing pains to its hopeful present. This tongue-in-cheek history offers readers a healthy dose of satire and silliness while delving into the things that make Canada's past and present so very interesting.
A Hoser's Guide To Canadian History (A Really Good Attempt To Explain How We Got Here) is coming soon to major booksellers everywhere. Check back for updates, or sign up for our newsletter
here
to be notified of new releases, discounts, and giveaways!