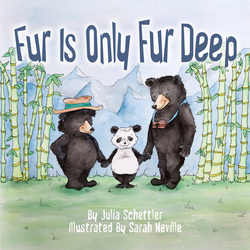 Author Julia Schettler and Illustrator Sarah Neville will be at the St. Vital Chapters in Winnipeg, Manitoba, to sign copies of the heartwarming story, Fur is Only Fur Deep. They will be signing on Saturday, March 26, from 1 - 4. The book is already available on their shelves.

Fur is Only Fur Deep is one of the few illustrated children's books to address the issue of International Adoption. Telling the story of an orphaned Panda Cub at the Beary Nice Orphanage, Fur Is Only Fur Deep reminds us that families come in all shapes and sizes, and that it's what's on the inside that counts. A celebration of the unique and varied nature of family and the importance of love and acceptance, Fur Is Only Fur Deep is a wonderful book for families of all kinds. It's perfect for the home or the classroom.

If you're in the Winnipeg area on Saturday, March 26th, please stop in at the St. Vital Chapters to meet the author and illustrator and to find out more about this beautiful story.